Shetland's Heritage - Shaping the Future Together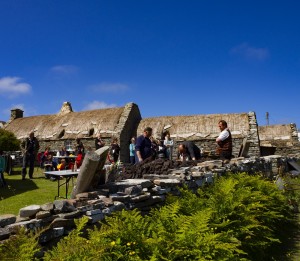 Day conference – jointly hosted by Shetland Amenity Trust and Shetland Heritage Association
Would you like to get involved in heritage initiatives for the first time or are you already working, volunteering, supporting or engaging with Shetland's heritage? Join members of Shetland's heritage community for a day conference exploring a range of heritage topics and find out how to get involved in heritage initiatives and help determine future priorities.
Date:
Saturday 4 March 2023
Time:
9.30am – 4.15pm, followed by Shetland Heritage Association AGM at 4.30pm
Cost:
  Free
Venue:
Shetland Museum & Archives
Lunch:
Soup and bannock lunch provided 
Reserve your place by selecting the Book button at the bottom of the page and select which group sessions you wish to attend by following this link.
Programme:
09.30-10.00   Arrival, tea/coffee and networking
10.00-10.15   Welcome, housekeeping and introduction to the day
10.15-10.30   Shetland Amenity Trust – Hazel Sutherland
10.30-10.45   Shetland Heritage Association – Pat Christie
10.45-11.15   Museums Galleries Scotland – Neil Ogilvy (virtual)
11.15-11.45   Tea/coffee
11.45-12.15   Scottish Council on Archives– Audrey Wilson
12.15-13.00   Concurrent discussion groups. Book your preferred choice here
                       - Shetland's story
                       - Digital heritage
                       - Built heritage
13.00-14.00   Soup and bannock lunch and networking
14.00-14.30   Straw craft demonstration or Archives tour. Book your preferred choice here 
* Please note the archives tour is now fully booked *
14.30-15.15   Concurrent discussion groups. Book your preferred choice here 
                       - Living heritage
                       - Oral tradition
                       - Natural heritage
15.15-15.35   Tea/coffee
15.35-16.05   Group feedback
16.05-16.15   Sum up/next steps
16.30-17.00   Shetland Heritage Association AGM
​​​​​​
Book
Venue Shetland Museum and Archives
Hay's Dock
Lerwick
Shetland
ZE1 0WP