The world of live events is reopening in new ways and at the Little Box Office, we have been working with new and existing clients to design new tools to manage social distancing, event capacities and staggered admissions / timed ticketing.
Our Social Distance Tool
The challenge with seated events is to ensure that each group of customers are separated by a safe distance, whilst ensuring they do not leave empty seat necessarily. With our tool enabled, when a customer books seats, the seats immediately on either side of theses seats are automatically removed for sale. You can select a number of seats to be removed on either side. Here's an illustration of how it:

In addition, you can also disable entire rows automatically in order to create further distancing:

You can also combine the above tools with a permanent reconfiguration of your seating plans (e.g. you might want to remove rows and seats permanently).
Event Capacity
More and more government and health protection guidelines are encouraging events to limit and manage accurately the number of customers present in your venue at any one time.
This can also be combined with the need to manage the number of 'bubbles' (people from the same household).
Your account can be set up to offer a wide variety of areas or zones where you can limit the number of people present at any one time. In addition you can assign capacities to time-slots to create a very powerful staggered admission solution.
Staggered Admission
A logical way to maintain social distancing is to prevent queues and bottlenecks before, during and after the event has taken place. A smart solution is to introduce staggered admission whereby customers are required to arrive at different times.
Your customers have the opportunity to select their event time as well as their arrival time. All admin users are able to see who is attending which event and when they are scheduled to arrive.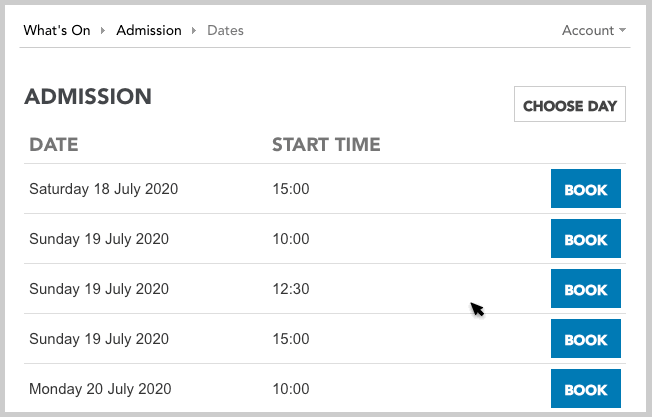 Get in Touch
If you are looking for an affordable, flexible and user-friendly software to manage your events with our social distancing tools, please get in touch. We can organise a call with screen-sharing for you to see how it works. You'll also be able to see how we can customise your account to meet all your needs.