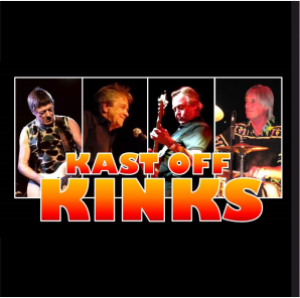 FEELING KINKY?  The Kast off Kinks features three former members of the legendary band 'The Kinks', back together playing great music and re-living the good times whilst keeping the songs alive that made The Kinks a household name.  This great line-up features Mick Avory (original drummer on all the classic hits from 1964-84), Ian Gibbons (keyboards/vocals, Kinks 80's & 90's and still with Sir Ray Davies), John Dalton (bass/vocals, Kinks 60's & 70's) alongside Dave Clarke (guitar/vocals, formerly of the Beach Boys, Noel Redding & Tim Rose).
Expect an evening of iconic hits including: You Really Got Me, Dedicated Follower of Fashion, Sunny Afternoon, Lola, Days, Waterloo Sunset, Come Dancing, All Day and All of the Night plus more...  A great night out, not to be missed!
"A full house, and a standing ovation. To anyone wondering about going, do not hesitate" (The Stables, Milton Keynes)
"Nothing short of superb.  From start to finish it was filled with hit after hit" (Mad Ferret, Preston)
Saturday 16th May 2020 7.30pm
Tickets are £23 Adult and £21.00 Concessions
.
The prices above include all Booking & Moneyhandling Fees and are the total price you will pay