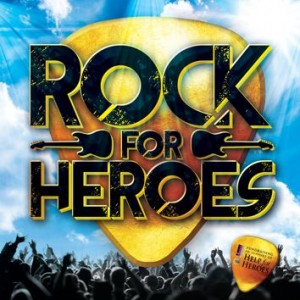 Are you ready to ROCK! Immerse yourself in the incredible new live music experience with Rock For Heroes. Bringing the perfect combination of your favourite Rock & Pop artist across the eras, fundraising in support of Help for Heroes.
We will be collecting for this amazing cause, at the end of the show. Performed by a full live rock band and superb singers, It's the must see show of the year. With music from artists such as Dire Straits, Status Quo, Queen, David Bowie, Spandau Ballet, Bryan Adams, Elton John, AC/DC, Whitesnake & so many more. You won't see a bad wig here, this isn't a tribute act this is simply paying tribute, the best way we can to the legends in music.
Book your tickets today & be part of Rock For Heroes – Music, Laughter & a Rockin' Night Out!
https://www.youtube.com/watch?v=tGUawTRVcgk
Saturday 28th September 2019 7.30pm
Tickets are £23.00 Adult and £21.00 Concessions
.
The prices above include all Booking & Moneyhandling Fees and are the total price you will pay