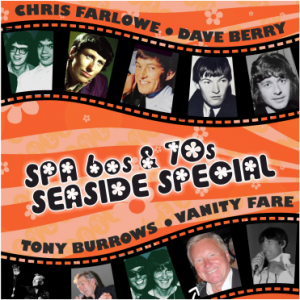 A Spa Exclusive: The Smash Hit 60's & 70's Seaside Special!
Hark back to the glorious days of Radio One's Roadshow and Seaside Special with our unique and star-studded line up of musicians and performers!
Hosted by the Radio One legend that is
'Diddy' David Hamilton
, this stunning fully live show includes:
Dave Berry
- famous for "Little Things", "Mama", "The Crying Game" and many more.
Vanity Fare
whose hits include "Hitchin a Ride" and "Early in the Morning"
Chris Farlowe
- Whose number one hit - 'Out of Time', during the 1966 World Cup catapulted his career into becoming one of the most sensational male vocalists of his era.
Tony Burrows
- famous for 'The Ivy League', 'The Flower Pot Men', 'White Plains', 'The Pipkins', 'Edison Lighthouse', 'The First Class' and 'Brotherhood of Man'.
It'll be a night of rockin' music, laughter, fun, prizes and sensational sounds from this one off show, made right here in Felixstowe just for you. As well as the blockbuster songs made famous by our stars, you can also expect to hear your favourite 60's and 70's summer hits from other iconic bands such as The Beatles and The Rolling Stones. You won't see this show anywhere else!
Saturday 31st August 2019 - 7.30pm
Tickets £24/£22 Adults and £22/£20 Concessions; £10 for under 16's.
The Ticket price above includes all ticketing and money handling fees.