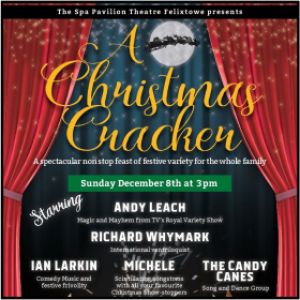 A spectacular non-stop feast of festive variety for the whole family!  
« STARRING «
ANDY LEACH -
Magic and Mayhem, from TV's Royal Variety Show  
RICHARD WHYMARK -
International ventriloquist  
IAN LARKIN
- Comedy Music & Festive Frivolity  
MICHELE
- Scintillating songstress, with all your favourite Christmas show-stoppers  
THE CANDY CANES
- Song & Dance Group  
PLUS SPECIAL GUEST STARS
Sunday 8th December 2019 - 3pm
Tickets £17 Adults and £14.50 Concessions; £5 for under 16's. Family 'Cracker' (2+2) £35
The Ticket price above includes all ticketing and money handling fees.