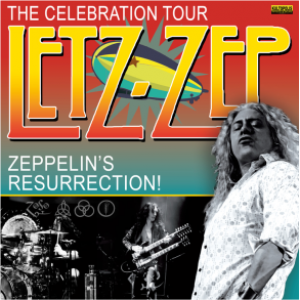 Letz Zep are the official number one tribute to Led Zeppelin and Baby They Ain't Foolin'
This achievement was recognised by the authoritative Ticketmaster organisation when they awarded the band 'The Most Popular' and 'The Most Highly Rated' tribute to Led Zeppelin today. Letz Zep are the best known and most successful tribute to Led Zeppelin, even legendary Zep vocalist Robert Plant has attended a gig by the band. 'I walked in, I saw me' was his comment.
Plant also gave the band his blessing when interviewed on VH1 and Jimmy Page has attended a gig by Letz Zep, when he invited he band to join him after the show. He complimented the band on the performance, he even personally invited Letz Zep to perform at the prestigious official launch party for their 'Mothership' release.
Letz Zep were also honoured and proud to perform a headline set at the 'John Bonham - A Celebration' concert to celebrate the life and legacy of the great John Bonham, which coincided with the unveiling of a bronze statue to the legendary percussionist in his home-town of Redditch.
Warner Music named Letz Zep as Europe's best tribute to Led Zeppelin' and they should know, being the record label for Led Zeppelin themselves!
Letz Zep is formed by talented and respected musicians who are all true Zep fans with a strong musical pedigree.
Its members have toured with artists such as Ozzy Osbourne, Roger Daltrey, Debbie Bonham, Steve Hackett, Dr Feelgood, Saxon and Uriah Heep, to name but a few. All four members possess the considerable musical ability required to a completely convincing recreation of Led Zeppelin in their prime, complete with the 'tight but loose' trademark element so essential to the raw excitement of a Led Zeppelin concert.
Letz Zep tours take in over 35 countries on four continents and their latest tour they will be performing songs from the entire recording career of Led Zeppelin. From the haunting melody of 'Kashmir' to the rockers such as 'Whole Lotta Love and 'Immigrant Song'. The folksy acoustics such as 'Going to California' and 'Babe I'm Gonna Leave You' to the classic 'Stairway to Heaven' a concert by Letz Zep brings you an evening with the music of the greatest rock band EVER! Led Zeppelin.
An unmissable night for all fans of the genre.
Saturday 19th October 2019 - 7.30pmTickets are £22.50
The prices above include all Booking & Moneyhandling Fees and are the total price you will pay