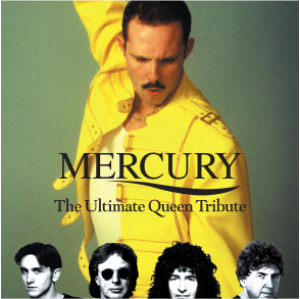 Celebrating over 20 years on the road, Mercury are well established as one of the world's most authentic tributes to the legend that is Freddie Mercury and Queen. This dynamic theatre production fully emulates the true charismatic appeal of rock's most flamboyant front man, faithfully and accurately recreating the distinctive Queen experience.  
The extraordinary vocal range and outstanding delivery of Joseph Lee Jackson as Freddie Mercury and the intricate guitar work of Glenn Scrimshaw as Brian May are backed by superbly crafted harmonies, a driving rhythm section and state-of-the-art production. Including performances of the most popular Queen hits, such as Bohemian Rhapsody, Radio Ga Ga, We Are The Champions, We Will Rock You and many more, this show will captivate any audience - from die-hard Queen fans through to new generations of music lovers in a way that Freddie and Queen themselves would be proud of.  
www.mercuryqueentribute.co.uk
"Freddie was an original. He and Queen were the best. But now, in this new century, Joseph, Glenn and Mercury are the next best thing."
Jer Bulsara (Freddie's Mum)  
Facebook:
https://www.facebook.com/mercuryqueentribute/
View Trailer:
https://youtu.be/LmBvTv6TeM4
Saturday 18th February 2023 - 7.30pm
Tickets are £29 and £27 Concessions.
The prices above include all Booking & Moneyhandling Fees and are the total price you will pay