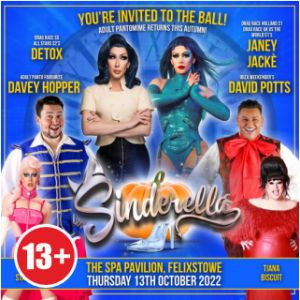 By invitation of Prince Charming, you are officially summoned to The Royal Ball this Autumn, as Adult Panto Tour return with the most magical, naughty tale of them all: Sinderella!
Will poor Cinderella make it to the ball, or will her wicked Step Mother DETOX (Drag Race Season 5 and All Stars Season 2) and Ugly Sisters stop her? Under the guidance of our magical Fairy Drag Mother, JANEY JACKÉ ('Drag Race Holland Season 1' and 'UK vs The World Season 1') and the lovable Buttons DAVEY HOPPER (Little Willy in 'Rapunzel 2021' and Buttons in 'Sinderella 2020') ... will Prince Charming and HUNdini, DAVID POTTS ('Ibiza Weekender') find Cinderella, and ensure the glass slipper is returned to her and true love prevails?
Plus: There's nothing ugly about our sisters! We are delighted to announce the icon that is SOPHIA STARDUST and the fabulous TIANA BISCUIT join the cast of SINDERELLA as Cinderella's wicked step sisters! If you've seen this duo perform before, then you know they are going to get this Adult Panto Party started!
With sparkling sets and costumes, an utterly filthy "laugh a minute" script, and all the usual cheesy anthems, fun, frolics, laughter and audience participation you would expect! Get ready for a night at the theatre you won't forget in a hurry ... oh no you won't!
Thursday 13th October 2022 - 8pm
Tickets £32.50 Adults
Exclusive! Meet & Photo VIP Tickets £47.50 available from the Box Office only, 01394 284962
Meet the cast 60 minutes before the show, receive a digitally signed poster and have your photo taken with the Queens and uploaded to Facebook @adultpantotour
The prices above include all Booking & Moneyhandling Fees and are the total price you will pay
Age Recommendation: 13+ (Contains adult material – including bad language and talk of a sexual nature). Parental guidance advised.