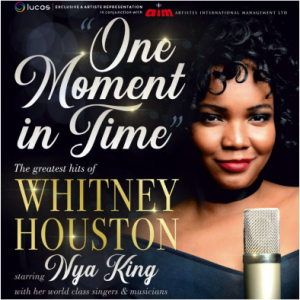 The story that is never told about Whitney is just how uniquely brilliant she was as an artist; by many measures she had the greatest voice of the last 50 years. She changed the way pop music was sung bringing it back full circle to blues and gospel roots. Her legacy was her music and we celebrate her life and songs with a musical concert dedicated to the legend that is Whitney Houston. While raised on a diverse musical diet of many of the world's greatest vocal stars, which is reflected in her many shows in the UK, Europe and Africa, the incomparable, three times winner of the UK National Tribute Awards, Nya King, brings her amazing soul & R&B style to the Spa.
The unprecedented voice of Whitney Elizabeth Houston has been Nya's biggest influence and inspiration from childhood. With this in mind you will witness an outstanding first class live performance of her mind-blowing tribute, capturing the true spirit, passion, style, moves and sound.
Direct from a sell out tour in Germany, this is an emotional show and a spectacular trailblazing musical testament to the most iconic pop, soul, R&B Diva of all time.
"THE SHOW EVERYONE IS TALKING ABOUT"
Saturday 29th February 2020 - 7.30pm
Tickets £25.50 Adults / £23.50 Concessions
The prices above include all Booking & Moneyhandling Fees and are the total price you will pay