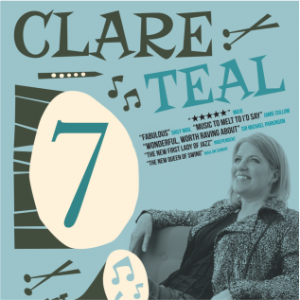 Clare Teal - 7 delivers a momentous collaboration of swing in a brand New Show for 2022 
Expect exhilarating swing from award-winning jazz vocalist and broadcaster Clare Teal!  Clare (formerly on Radio 2, now on Jazz FM), together with her band, will celebrate the art of swing - featuring some of the greatest songs ever written from the Great American and British songbooks.
Always an entertaining and humorous evening packed with anecdotes and rich jazz infused repertoire, this promises to be full of joyous uplifting and inspirational music performed by the best.
Giacomo Smith – Clarinet
Jason Rebello – Piano
Pete Horsfall – Trumpet 
Ferg Ireland – Bass
Dave Archer – Guitar 
Ed Richardson – Drums 
Messin' With Fire -
https://youtu.be/HYtfr4ANkNc
The
Firesides Sessions: Trailer -
https://youtu.be/mODzPVgw2Oo
Sunday 20th March 2022 - 7.30pm
Tickets £28 Adults / £26 Concessions
The prices above include all Booking & Moneyhandling Fees and are the total price you will pay