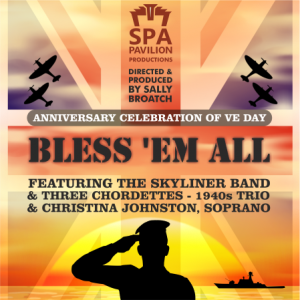 What ho chaps! Come join us for The Spa's unforgettable celebration of the 1940's!
Bring your chums to travel back in time and listen to the music and popular light entertainment of the era. Songs and sketches will take us on a jolly good journey from the start of the war years through to VE Day. Hoorah! With a hugely talented line up of musicians and performers, including: Skyliner Band, The Three Chordettes, coloratura soprano Christina Johnston, and more … you're guaranteed an exciting journey of nostalgia, music, comedy and drama
Sunday 8th May 2022 - 3pm and 7.30pm
Tickets are £17.50 Adults and £14.50 Concessions/U16.
The prices above include all Booking & Moneyhandling Fees and are the total price you will pay