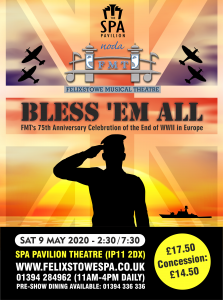 The award-winning Felixstowe Musical Theatre return to The Spa! 
Bless 'Em All takes you on a journey of unforgettable highs and lows through the monumental period that was experienced by the whole country during the Second World War. A story filled with Songs and laughter to catapult you into the emotions of life in WW2.   
FMT's spell-binding show will take you close to what life was like keeping up morale in the air raid shelters, through bombing, rationing, the loss of loved ones and the tough conditions of the beach landings. Not to forget momentous events like the arrival of the US Army, and of course all the joy and relief brought by VE Day and beyond.   
This shows promises to have you tapping your feet and singing along to your war time favourites such as 'Tipperary', 'Pack up your Troubles' & 'Maybe it's because I'm a Londoner', brought to life by the fantastic sound of the fully live FMT Band. 
FMT will share with you over 50 years of musical theatre experience and the superb talent of their members, along with a show packed full of authentic costumes and beautiful harmonies. 
Saturday 9th May 2020 - 2.30pm and 7.30pm
Tickets are £17.50 Adults and £14.50 Concessions/U16.
The prices above include all Booking & Moneyhandling Fees and are the total price you will pay