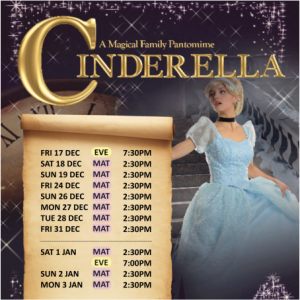 Meet the loveable Buttons, the Ugly Sisters, Evil Stepmother and of course Cinderella as we bring you one of our favourite pantomimes. Enjoy huge fun for all the family as the ugly sisters do their best to make sure that Cinderella misses the ball, while she depends on your help to get there.
With all the usual pantomime ingredients, some new twists and a great cast, our Panto is the place to be!
New for this year, we've created a special launch night performance and Christmas Party with a meal before the show and a DJ and dancefloor afterwards. It will be a slightly naughtier version than the standard one! Perfect for that work or family pre-Christmas celebration... More details are available from our box office.
17th December 2021 to 3rd January 2022 - The show runs for approximately 2 hours 15 minutes including a 20 minute interval.

Tickets
Adults £22/20  Under 16's £14/£12
Friday 17th December - 7.30pm (Christmas Party Dinner & Dance Special also available)
Saturday 18th December 2021 - 2.30pm
Sunday 19th December 2021 - 2.30pm
Friday 24th December 2021 - 2.30pm
Sunday 26th December 2021 - 2.30pm
Monday 27th December 2021 - 2.30pm
Tuesday 28th December 2021 - 2.30pm
Friday 31st December 2021 - 2.30pm
Saturday 1st January 2022 - 2.30pm
Saturday 1st January 2022 - 7.00pm
Sunday 2nd January 2022 - 2.30pm
Monday 3rd January 2022 - 2.30pm