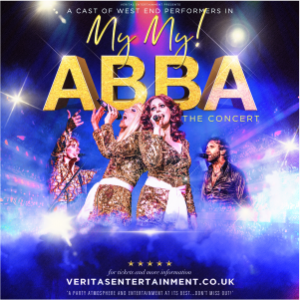 There are ABBA tributes and then there's 'My My'!  
"Sensational!" "The best ABBA tribute show in the UK we've seen." "A rip-roaring fun night out." are just some of the terms that have been used to describe this incredible tribute show that will have you involved from the very start.  
'My My!' pays homage to the original Swedish sensations by capturing ABBA's great sense of fun, recreating their incredible unique sound and combining this into a fun filled evening of sing-along, dance-along magic! This show will thrill you with a mix of iconic costume and a touch of audience participation that only a Veritas production can provide.  
Featuring such unforgettable hits as "Waterloo", "Mamma Mia" and "Dancing Queen", this fantastic cast of West End performers are guaranteed to liven up your night and keep you dancing till dawn!
Saturday 23rd April 2022 - 7.30pm
Tickets: Adults £27 | Concessions/-16 £25
Ticket price includes all booking and moneyhandling charges