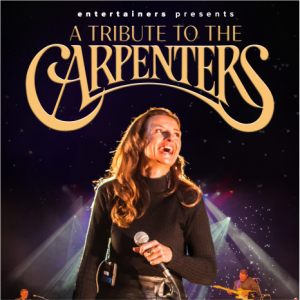 It's time to get over that rainbow and make the smallest of dreams come true with A Tribute to the Carpenters.
The original Carpenters tribute is back with a brand-new show for 204!
Featuring Gordy Marshall's The British Carpenters, starring the fantastic Sally Creedon as Karen Carpenter and with an incredible cast made up of musicians straight from London's West End, join us for one very special night, on top of the world, to create a dream come true, celebrating the legendary music of the Carpenters.
Bringing to life all the hits including, Close to You, Top of the World, Rainy Days and Mondays, Please Mr Postman, Goodbye to Love and many more and we recreate the soundtrack of our lives. Tribute to The Carpenters, touring the UK, tickets on sale now! 
Saturday 6th July 2024 - 7.30pmAll Tickets £34
The prices above include all Booking & Moneyhandling Fees and are the total price you will pay
Please be aware that many live acts will encourage the audience to participate with singing, dancing and standing, which may lead to a restriction of view for those who wish or need to remain seated. If you have such a need, please speak to the box office when booking and we will advise on the best seats to minimise the effect of this.