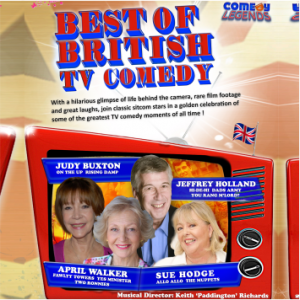 Join some of TV's best-loved comedy legends in a hilarious glimpse of life behind the camera in a bumper celebration of classic TV nostalgia. 
Starring JEFFREY HOLLAND (Hi-De-Hi; You Rang M'Lord; Dad's Army); SUE HODGE ('Allo 'Allo! & The Muppets); APRIL WALKER (Fawlty Towers; Yes Minister!; Morecambe & Wise; The Two Ronnies; Frankie Howard; The Navy Lark); JUDY BUXTON (Rising Damp; The Likely Lads; Get Some In; On The Up) and hosted by comedy legend DEBBIE HUDD. 
With Keith 'Paddington' Richards at the piano, plus the screening of some "rare" TV comedy moments, and with an opportunity to ask the questions you've always wanted to, prepare for some hilarious backstage stories and great laughs in a fascinating golden celebration of some of the greatest TV comedy moments of all time! 
PLUS- Meet the cast after the show and have your photograph taken with them for an ideal take-home souvenir, and Sue Hodge will be signing her best-selling, hilarious `Allo `Allo book, `Mimi`s Memoirs`.
Sunday 2nd October 2022 - 2.30pm
Tickets: £24
Ticket price includes all booking and moneyhandling charges