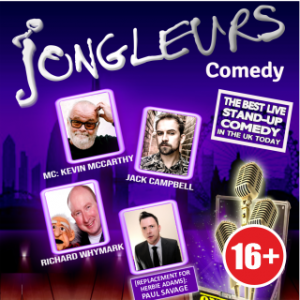 We're delighted to bring you the best live stand up comedy show in the UK today, with new regular visits from Jongleurs!
Visiting us on 4th March will be:
KEVIN MCCARTHY – One of the biggest and most loved performers by comics and audiences alike, compering and headlining at all the major Comedy Clubs in the UK. His appetite for topical mirth is second to none and he will have even the hardest of crowds eating out of his hand, as well as watching their back, for he's as sharp as they come.
JACK CAMPBELL – Jack began performing stand-up whilst at De Montfort University, Leicester in 2010 and has been performing regularly since. He performed his one-man show at the Edinburgh Festival in 2015 and 2016 and has performed across Europe in Germany, Estonia, Finland and Latvia as well as further afield in Australia.
RICHARD WHYMARK – This Suffolk Stand Up Comedian / Ventriloquist is one of East Anglia's top comedy performers. He has performed all over the UK at venues ranging from theatres, comedy clubs, social clubs and corporate events. A winner on ITV's 'Stand Up Britain'
PAUL SAVAGE –Paul has performed all over Britain, from the highlands of Scotland to the bottom tip of Cornwall, and hundreds of places in between. In 2013, he did a tour of English speaking venues in Norway, Sweden and Denmark. In the 9 years he's been going, he has performed over 1500 gigs, including six runs at the Edinburgh Festival. "Genuinely brilliant. Writes a good joke, draws a good cartoon: an all round hoot" - The Guardian
Friday 4th March 2022 - 8pmTickets are £24
The prices above include all Booking & Moneyhandling Fees and are the total price you will pay
16+ Recommended due to Adult Humour and Language
This event may be hosted in our Lounge, for a more intimate atmosphere, if audience size allows.