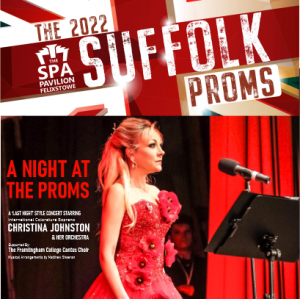 Join our Patron Christina Johnston and friends for an unforgettable night of beautiful live music!
Christina, the internationally-renowned coloratura soprano is a firm favourite of Heads of State and has performed all around the world and with many musical greats including Jose Carreras and Russell Watson, earning the nickname of The Nightingale along the way.
Now back in the UK after a residency at the Prague State Opera, and supported by her orchestra, including a string quartet and many other talented musicians, Christina is bringing her version of the Last Night of the Proms to Felixstowe for one night only. With support from the Framlingham College Cantus Choir this will be a night to remember.
"Christina sings like an angel" - Milos Zeman, President of the Czech Republic
Christina is phenomenal! As a soloist for us, her voice beautifully compliments Boni Pueri Boys choir and is always a pleasure to work with" - Pavel Horák, Director of Boni Pueri
"She is extremely talented, we will hear a lot about her in the future I am sure" - Jarmila Zbořilová, Director of the Pardubice Philharmonic Orchestra
Saturday 24th September 2022 - 7.30pmTickets £32/£28 Adults and £28/£24 Children/Concessions.
The prices above include all Booking & Moneyhandling Fees and are the total price you will pay