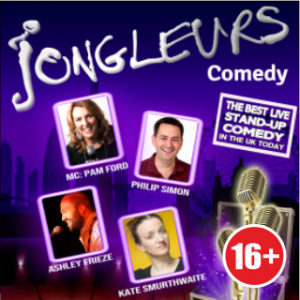 We're delighted to bring you the best live stand up comedy show in the UK today, with new regular visits from Jongleurs!
Visiting us on 6th May will be:
PAM FORD - Six foot Aussie glamorous comedian, more lip than a duck billed platypus. A regular on UK comedy circuit and Edinburgh Festival. Anecdotal and gags a plenty.
PHILIP SIMON - An award-winning comedian, writer and actor who has written for Mock the Week and NewsJack. During lockdown he took a break from homeschooling to create the hugely successful children's comedy show 'School's Out Comedy Club' and published a children's joke book.
ASHLEY FRIEZE - With his charming, daft and warm brand of music-infused stand-up comedy, Ashley has been entertaining audiences up and down the UK since 2003. He's a playful, sharp, MC, and a powerhouse featured act. He's played theatres and comedy clubs, many many pub function rooms, festival stages, and even a moving bus! Ashley has something for most audiences, intelligent, geeky, silly, and occasionally naughty, he's playful and never rude!
KATE SMURTHWAITE -  A left wing, feminist, atheist, polyamorous comedian and activist. She is also the host and star of the News at Kate video series. Kate has also written for TV, radio and web series including Have I Got News For You and BBC3's BAFTA-winning The Revolution Will Be Televised. She was a finalist in 2015's SitCom Mission competition.
This event may be hosted in our Lounge Restaurant if audience size allows, for a more intimate atmosphere.
Friday 6th May 2022 - 8pmTickets are £24
The prices above include all Booking & Moneyhandling Fees and are the total price you will pay
16+ Recommended due to Adult Humour and Language