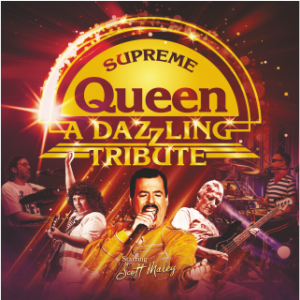 SUPREME QUEEN
Featuring – Scott Maley
A TRIBUTE TO THE LEGEND
Now one of the most recognisable Tribute bands in the world, SUPREME QUEEN continue to take things to a whole different level, with their homage to the halcyon days of one of the planet's greatest ever rock bands. Since their formation in the nineties, SUPREME QUEEN have played to hundreds of  thousands of Queen fans across the world, headlining at major events including St. Tropez's International Queen Convention, where they played to 10,000 people.
Scott Maley's incredible vocal and visual resemblance to Freddie Mercury, fronting this remarkable band of musicians has seen SUPREME QUEEN become one of the most respected bands of their genre anywhere on earth. Closely following the ethos of the original band, they have always strived to create the Original Queen Live Experience. 
Now a part of the Brian Shaw stable, that brings you ground breaking Arena events such as The Elvis World Tour, we enter a new era for SUPREME QUEEN. As musically brilliant as ever, the new presentation benefits from stunning production values, plus sound and lighting effects designed to transport the audience to the halcyon days of their heroes.
Simply, a stage show designed to provide the most memorable of evenings for Queen's millions of fans worldwide.
Friday 15th September 2023 - 7.30pmTickets are £31
The prices above include all Booking & Moneyhandling Fees and are the total price you will pay
IMPORTANT NOTICE FOR LIVE MUSIC SHOWS
Please be aware that many live acts will encourage the audience to participate with singing, dancing and standing, which may lead to a restriction of view for those who wish or need to remain seated. If you have such a need, please speak to the box office when booking and we will advise on the best seats to minimise the effect of this.
The front right hand corner of the auditorium, where the wheelchair spaces are, is not for dancing or standing at any time, please do not book seats in rows A-N, seats 1-9, if you know that you wish to stand or dance. Standing and dancing at your seat during the performance should be considerate to those around you, and you may be asked to move to an aisle or to an alternative seat if it is inconveniencing people around and especially those behind you.
We ask audience members to be kind and considerate to those around them at all times and to follow the instructions of our ushers and security staff. Anyone who refuses to do as we ask or is rude or obviously intoxicated will be asked to leave the theatre. No alcohol, drinks or food may be brought into our building, bags may be searched and such items removed and disposed of.
We hope you understand that these rules are to protect your enjoyment of our show and that of the whole audience and that you thoroughly enjoy your visit to The Spa.