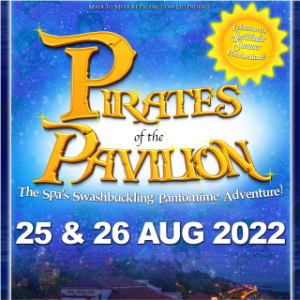 Prepare for Scallywags and Seadogs as a Sensational, BRAND-NEW summer pantomime hits the Spa Pavilion stage this summer!
This spectacular family pantomime adventure will take you on a swashbuckling journey across the seven seas where you'll meet our crackpot crew – the hilarious Seadog Billy, the bumbling Captain Filibuster and the plucky Pirate Poppy! They're all on a mission to find the lost treasure and set sail aboard their trusty ship – the Saucy Sally. But it's not all plain sailing as the evil Captain Blackhead is up to no good and will do everything in his power to stop them in their tracks!
Luckily the magical Spirit of the Seas is on hand to sprinkle some sparkle and cast a spell to ensure the crew of the Saucy Sally can save the day! Featuring stunning scenery, colourful costumes, dazzling dance routines, toe-tapping tunes and hilariouscomedy by the barrelful, you won't want to miss brand new summer pantomime spectacular...
Thursday 25th & Friday 26th August 2022 - 3.00pm
Tickets are from £20 Adult and £12 Under 16s Family Tickets from £60
The prices above include all Booking & Moneyhandling Fees and are the total price you will pay

Runtime: 2 hours total including 20 minute interval