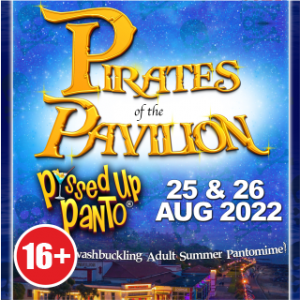 Have you ever watched a pantomime and wondered what mischief the cast would get up to if there weren't any children in the audience? What if the cast have had one too many?! Now's your chance to find out…!
This year, Made to Measure Productions are delighted to be working alongside the Spa Pavilion to bring a brand-new spectacular summer pantomime to Felixstowe...but it's not all about the kids...! We're featuring two performances of 'P*ssed Up Panto'...and it won't be for the faint-hearted - it's panto as you've never seen it before! The hilarious performances are packed to the brim full of innuendo, hilarious comedy routines, parodies of well-known songs and audience participation, creating a performance that's sure to be hilarious, cheeky, saucy and sometimes just a little bit naughty...okay...very naughty...!
Along with all the usual adult panto fun, the audience vote each night for the one performer who must complete savage drinking challenges throughout the show. As the victim gets slowly more and more sozzled, they must, along with the rest of the cast, keep the show rolling on to it's happy climax... This spectacular show will take you on a swashbuckling journey across the seven seas where you'll meet our crackpot crew – the hilarious Seadog Billy, the bumbling Captain Filibuster and the plucky Pirate Poppy. They're all on a mission to find the lost treasure and set sail aboard their trusty ship – the Saucy Sally! But it's not all plain sailing as the evil Captain Blackhead is up to no good and will do everything in his power to stop them in their tracks!
Luckily the magical Spirit of the Seas is on hand to sprinkle some sparkle and cast a spell to ensure the crew of the Saucy Sally can get their...happy ending... ;)
Starring a whole host of experienced, professional pantomime performers, and one or two professional drinkers, alongside a dazzling ensemble cast, stunning scenery, great music and side-splitting comedy routines this is a night that audiences will remember for the rest of their lives. Does Seadog Billy have a 10 foot willy? Will the Spirit of the Seas work wonders with a magic wand? Will Captain Filibuster cop off with one of the male dancers? There's only one way to find out...boys and girls...
Thursday 25th & Friday 26th August 2022 - 8pm
Tickets are from £24 - Strictly 16 plus
The prices above include all Booking & Moneyhandling Fees and are the total price you will pay