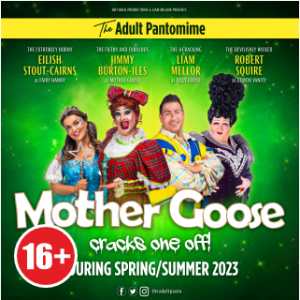 Adult Panto is back! Now in its 5th year, and we are delighted to welcome back to the Felixstowe Spa Pavilion: Liam Mellor & Hot Rock Productions, with 'Mother Goose... Cracks One Off'! 
Starring Adult Pantomime legends, the #Cracking Liam Mellor as Billy Goose, and the Filthy and Fabulous Jimmy Burton-Iles in the title role- Mother Goose. Also, returning from last year's UK tour of 'Sleeping with Beauty' is the Extremely Horny Eilish-Stout Cairns as Fairy Hanny & the Devilishly Wicked Robert Squire as Demon Vanity!
Will Mother Goose get glamour, fame, and fortune? Will Demon Vanity rule the world? And will Billy finally get to shag the Princess??
Find out in our fun and filthy Adult Panto for all you BIG boys & girls, so leave the kids at home and grab your tickets for this filthy night out!
Suitable for 16 plus years
Facebook: @adultpantomime | Twitter: @adultpantomime | Instagram: adultpanto
Friday 14th April 2023 - 8pm
Tickets £27 Premium Seats  £24.50 Standard Seats
The prices above include all Booking & Moneyhandling Fees and are the total price you will pay