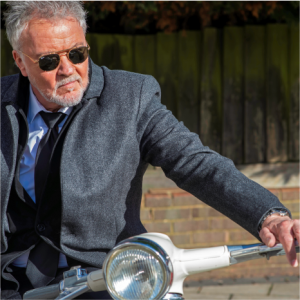 He's been a major star for four decades. Paul Young broke into the big time 40 years ago when No Parlez went to number one and spawned iconic hits like Wherever I Lay My Hat (That's My Home). More success followed with the number one album The Secret Of Association and the worldwide hit Everytime You Go Away, not forgetting an appearance at Live Aid and more. Paul sustained that success – while having fun in his tex-mex band, Los Pacaminos.
Now, on the 40th anniversary of No Parlez, he's releasing a remarkable new record and publishing his extraordinary memoir; both called Behind The Lens. He's touring the UK, too, where he'll meet fans, sing hits and tell stories about his incredible career. It's time to revel in the classic hits and learn the stories behind them as Paul steps out from Behind The Lens.
VIP packages are available by calling the Box Office on 01394 284962 for those wishing to meet Paul before the show. Meet & Greet ticketholders will arrive at 5.45PM and assemble in foyer | 6pm-7pm - Meet & Greet | 7:30PM -  - Show. Please note: Only 'MEET & GREET' ticketholders (not 'VIP' ticketholders) will be admitted for the Meet & Greet Experience
Saturday 14th October 2023 - 7.30pm
Tickets £34
VIP Tickets (great seats plus Goody Bag) £49
VIP Meet & Greet Tickets (best seats, pre-show meet, Goody Bag) £84
The prices above include all Booking & Moneyhandling Fees and are the total price you will payIMPORTANT NOTICE FOR LIVE MUSIC SHOWS
Please be aware that many live acts will encourage the audience to participate with singing, dancing and standing, which may lead to a restriction of view for those who wish or need to remain seated. If you have such a need, please speak to the box office when booking and we will advise on the best seats to minimise the effect of this.
The front right hand corner of the auditorium, where the wheelchair spaces are, is not for dancing or standing at any time, please do not book seats in rows A-N, seats 1-9, if you know that you wish to stand or dance. Standing and dancing at your seat during the performance should be considerate to those around you, and you may be asked to move to an aisle or to an alternative seat if it is inconveniencing people around and especially those behind you.
We ask audience members to be kind and considerate to those around them at all times and to follow the instructions of our ushers and security staff. Anyone who refuses to do as we ask or is obviously drunk may be asked to leave the theatre. No alcohol or food may be brought into our shows, bags may be searched and such items removed and disposed of.
We hope you understand that these rules are to protect your enjoyment of our show and that of the whole audience and that you thoroughly enjoy your visit to The Spa.