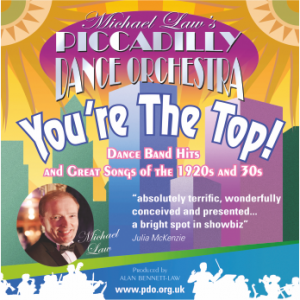 MICHAEL LAW'S PICCADILLY DANCE ORCHESTRA - Stylish, sophisticated, smooth ... For more than 30 years, recreating the glamour of the Golden Age of popular music: the 1920's to 40's, along with a hearty helping of foot-tapping jazz and "hot" dance music. Founded by Cambridge-educated singer, arranger and conductor Michael Law, The PDO is Britain's leading jazz age band, always in demand for their amzing repertoire of concert and dance favourites.
Join the 10 musicians and glamorous female vocalist of The PDO for an unashamed wallow in this wonderful music! With his cool, urbane manner and melliflous baritone voice, Michael croons while the audience swoons to the sounds that bring to life the elegant, jazz- and swing-flavoured 'Art Deco' era!
A de-lovely cocktail of great songs by Cole Porter, Irving Berlin, The Gershwin Brothers, Noël Coward and friends. Even if you aren't familiar with the music you'll love its sophisticated and smooth beat, and be amazed how many of these tunes inspired more modern songs.
"Astonishingly good" - The Spectator
"Miraculously authentic" - Country Life
"Sparkling, toe-tapping entertainment that ended with the audience shouting for encores" - The Stage
Friday 23rd September 2022 - 8pmTickets £24/£20 Adults and £22/£18 Children/Concessions.
The prices above include all Booking & Moneyhandling Fees and are the total price you will pay