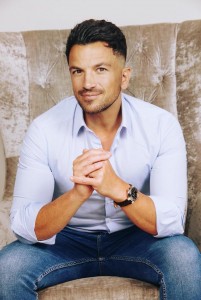 For one night only, a very special show by Peter Andre!
A global media star who has had a stellar music and television career, Peter hit a peak in his music career during the 1990's when he became the sixth highest selling artist in the UK. He had numerous number one hit singles, two number one albums and toured all over the world collecting a multitude of national and international awards along the way.
With many TV shows and appearances under his belt, Peter has also moved into the world of film and theatre. This brought a nomination for Best Actor in a short film at The North Hollywood Cinéfest, alongside starring roles in Grease: the Musical and Thriller, Peter has been busy working on several new film projects, going back into the recording studio, as well as launching his own You Tube channel, The Andres.  
The next couple of years will also see many more amazing ventures for Peter, including his 30 Years Celebration in 2023 but in 2022 you can see him in the intimate surroundings of the Spa Pavilion!
With an incredible social following of over 8 million, the happily married father of four is busier than ever and an evening with Peter is an unforgettable experience.
Wednesday 7th December 2022 at 8pm
Tickets: £54/£48
Also: Exclusive VIP Meet & Greet Tickets
 Sorry, now sold out.
The Ticket Prices above include booking fees and are the total price you will pay
VIP Meet and Greet information:
We're sorry, VIP Tickets are currently sold out. Don't miss your chance to meet Peter BEFORE the show (90 minutes prior to the performance starting at 6.30pm sharp) for photo and autograph opportunities. *Please arrive at least 10 minutes before the meet and greet start time, as latecomers may not be permitted. VIP ticketholders who wish to also book a Dine & Dance package, as below, at extra cost, will need to reserve a table to eat at or before 5.30pm. You can book seats and then call the box office to upgrade to VIP and/or Dine & Dance, but to get the best available VIP seats please call the box office first.
*** DINE & DANCE - LATE NIGHT CHRISTMAS PARTY MEAL PACKAGES ARE AVAILABLE AT EXTRA COST WITH THIS SHOW - THE MENU IS AVAILABALE HEREPARTY PACKAGES INCLUDE MEAL, SHOW, LATE BAR AND DJ UNTIL MIDNIGHT & COST £17.50 FOR A 2 COURSE MEAL OR £22.50 FOR 3 COURSES -
PLEASE CALL THE BOX OFFICE 01394 284962 TO BOOK ***