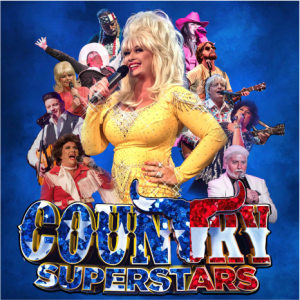 "As Seen in London's West End and featured on TV around the World"
This truly unique show tells the diverse story of Country Music through incredible impersonations of some of the biggest Country Superstars to have appeared at the Grand Ole Opry.
Country Superstars is hosted by TV Dolly star Sarah Jayne, who has been performing as Dolly Parton for 28 years and is Europe's Leading Tribute to the Queen of Country. This amazing cast were endorsed by Dolly Parton on the BBC One Show stating "I wish them the best and I appreciate them doing Dolly and Kenny so well for so long"! This show isone not to be missed and features 11 award winning impersonations of Patsy Cline, Johnny Cash, Billie Jo Spears, Kenny Rogers, Willie Nelson, Tammy Wynette, Garth Brooks, John Denver, Glen Campbell and Canadian Country Superstar Shania Twain.  
The show also includes the amazing Country Superstars Band, joined by award-winning TV vocal impersonator Andy Crust. The Country Superstars take you on an unforgettable journey back through time to meet the most influential icons to have shaped country music history. As seen in London's Leicester Square theatre, each artist not only looks and sounds like the Country Star they portray, these professional performers transform themselves through hours of practice at their craft. Every detail is taken into consideration from script, choice of songs, hair, make-up and mannerisms, as well as professional costumes and props. Kenny Rogers stated on his website that "Sarah Jayne and Andy Crust (are) Europe's Leading impersonators"  and the cast most recently featured on ITV's Game of Talents.
Country music will live on forever, and this show is a must see for any fans of Country Music! You can see more of the show
here
Saturday 3rd December 2022 - 7.30pmTickets are £26
The prices above include all Booking & Moneyhandling Fees and are the total price you will pay
*** DINE & DANCE - LATE NIGHT CHRISTMAS PARTY MEAL PACKAGES ARE AVAILABLE AT EXTRA COST WITH THIS SHOW - THE MENU IS AVAILABALE HEREPARTY PACKAGES INCLUDE MEAL, SHOW, LATE BAR AND DJ UNTIL MIDNIGHT & COST £17.50 FOR A 2 COURSE MEAL OR £22.50 FOR 3 COURSES -
PLEASE CALL THE BOX OFFICE 01394 284962 TO BOOK ***
Please be aware that many live acts will encourage the audience to participate with singing, dancing and standing, which may lead to a restriction of view for those who wish or need to remain seated. If you have such a need, please speak to the box office when booking and we will advise on the best seats to minimise the effect of this.