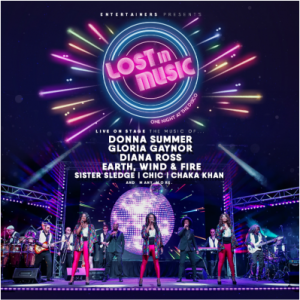 The night out of the year that you need more than ever, is back!
Get ready to get LOST IN MUSIC - The show that everyone is talking about, now even BIGGER!
Join us as we recreate the magical 70s and let us take you on a musical journey straight to the heart of disco. Relive some of the greatest songs of all time from artists such as Donna Summer, Gloria Gaynor, Earth, Wind & Fire, Sister Sledge and Chic.
This show boasts a sensational live band, incredibly talented cast and stunning vocals and is sure to have you dancing in the aisles - So, come dressed to impress as we celebrate the golden age of disco With songs such as 'Never Can Say Goodbye', 'On The Radio', 'Hot Stuff', 'Car Wash', 'Boogie Wonderland', and many, many more!
It's the feel-good show of the year. Lose yourself with us and leave your troubles at home!
Lost in Music – touring the nation, tickets on sale now.
Saturday 9th December 2023 - 7.30pmTickets are £33
The prices above include all Booking & Moneyhandling Fees and are the total price you will pay
*** CHRISTMAS MEAL PACKAGES ARE AVAILABLE AT EXTRA COST WITH THIS SHOW - OUR  PACKAGES ADD A MEAL AT AN EXTRA COST OF £20 FOR A 2 COURSE MEAL OR £26 FOR 3 COURSES -
PLEASE CALL THE RESTAURANT ON 01394 336336 TO BOOK ***
Please be aware that many live acts will encourage the audience to participate with singing, dancing and standing, which may lead to a restriction of view for those who wish or need to remain seated. If you have such a need, please speak to the box office when booking and we will advise on the best seats to minimise the effect of this.
We ask audience members to be kind and considerate to those around them at all times and to follow the instructions of our ushers and security staff. Anyone who refuses to do as we ask or is rude or obviously intoxicated will be asked to leave the theatre. No alcohol, drinks or food may be brought into our building, bags may be searched and such items removed and disposed of.
We hope you understand that these rules are to protect your enjoyment of our show and that of the whole audience and that you thoroughly enjoy your visit to The Spa.