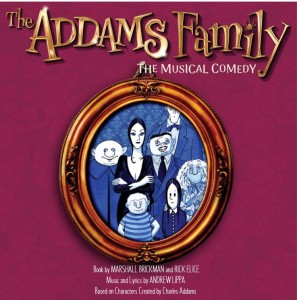 The Addams Family are back!
The smash hit, multi-award-winning comedy musical comes to The Spa courtesy of Spa Pavilion Productions Limited in association with Sally Broatch featuring Hannah Gingell as Wednesday Addams. Nurse Hannah works in critical care at Royal Papworth Hospital in Cambridge and won the hearts of the nation with her beautiful voice on Gareth Malone's BBC 2 series: 'The Choir: Singing for Britain'.
Wednesday Addams, the ultimate princess of darkness, is all grown up and has a shocking secret that only Gomez knows. She's fallen in love with a sweet young man from a respectable family. With his cherished Morticia in the dark will Gomez manage to keep his daughter's secret until the two families meet for a fateful dinner with hilarious consequences?
Join them, plus Uncle Fester, Lurch, Pugsley and more for a heart-warming story of love, family and friendship… with a twist!
Featuring a live orchestra and extraordinary original score THE ADDAMS FAMILY is sure to entertain whether you are 10 or 1010!
Book by MARSHALL BRICKMAN and RICK ELICE
Music and Lyrics by ANDREW LIPPA
Based on Characters Created by Charles Addams
Originally produced on Broadway by Stuart Oken, Roy Furman, Michael Leavitt, Five Cent Productions, Stephen Schuler, Decca Theatricals, Scott M. Delman, Stuart Ditsky, Terry Allen Kramer, Stephanie P. McClelland, James L. Nederlander, Eva Price, Jam Theatricals/Mary LuRoffe, Pittsburgh CLO/Gutterman-Swinsky, Vivek Tiwary/Gary Kaplan, The Weinstein Company/Clarence, LLC, Adam Zotovich/Tribe Theatricals. By Special Arrangement with Elephant Eye Theatrical. THE ADDAMS FAMILY is presented through special arrangement with Theatrical Rights Worldwide (TRW), 122-124 Regent Street, 5th floor, London W1B 5SA.
Monday 31st October 2022 - 7.30pm
Wednesday 2nd November: 7:30pm
Thursday 3rd November: 7:30pm
Friday 4th November, 2022: 7:30pm 
Saturday 5th November 2022: 2:30pmThe show runs for approximately 2 hours 15 minutes including a 20 minute interval.

Tickets
Adults £32/28;  Concessions (65+, unwaged) £28/£24;  Under 16's £24/£20 Family Tickets (2+2) £108/£92
The advertised price includes all booking and moneyhandling charges.