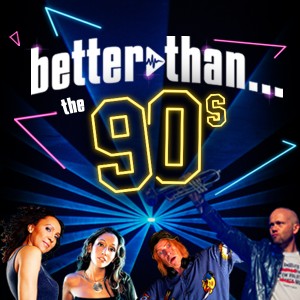 BETTER THAN THE 90's – A fun, unique journey through the 1990's...
Join Dario G, Baby D and Rozalla on a nostalgic journey through the best pop music and culture of the 1990s!
Better Than the 90s features genuine UK Global Mega Stars, combined with 90s nostalgia & interactive character actors, for an incredible chart-topping show! All this crammed into an exciting and unique new show that blends singing, dancing, incredible lighting & sound, along with 100% genuine artists that brought us such a wonderful finale to the 20th Century.
You're invited to re-live the energy, colour, ecstasy, music, comedy, fashion, laughter and pure enthusiasm of the greatest ever decade! Better Than the 90s is the brainchild of musician and songwriter Paul Spencer aka Dario G, whose music lit up the 1990's thrilling audiences globally! While touring, Paul noticed the feeling of 90s nostalgia was indeed much "Better Than the 90s" and so the idea was born, to create an immersive, spine-tingling experience that shows just that.
Expect Pop & Club Classics...
Expect a High Energy Vibrant Show...
Expect the unexpected.... as you are transported back to the 1990s!
See more of the show
here
Friday 3 February 2023 - 8pm
Premium Tickets: £32 / Standard Tickets £30
VIP tickets available - Premium Seats £57 - Standard Seats £55 ARRIVE AT 7.15PM -  The VIP Experience includes Meet & Greet, plus free 'Better Than The 90s' T-Shirt. VIP tickets can be booked anywhere in the theatre. Maximum 30 places available.
All prices include our booking fee and are the total you will pay