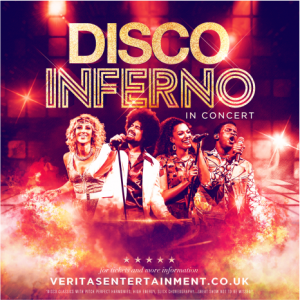 Let's dance, let's shout, and come and shake your body down to Felixstowe Spa Pavilion, with the electrifying show that screams glitter balls and good times all the way ...
If you ever dreamed of going to New York's Studio 54, 'Disco Inferno' takes you there – in an all-singing, all-dancing celebration of everything D.I.S.C.O.
Featuring the hits of The Bee Gees, Village People, Jacksons, Sister Sledge, Rose Royce, ABBA, Donna Summer, Barry White, Kool and the Gang, Earth Wind and Fire, Gloria Gaynor, Billy Ocean, Weather Girls, Candi Staton, The Trammps, Gap Band, Wild Cherry, and more.
Pitch-perfect harmonies, a tight-as-Spandex band and slicker-than-Saturday Night Fever choreography combine in one night at the disco you'll never forget.
It's the funkiest get down in town – a HipShakin', Hotsteppin' Legwarmin', Flaresflappin', Afrogleanin' Ghettoblastin', Platformpoundin', Hustlebustin', Cooldiggin' revival of the sound, style and dance moves of the Seventies.
Just some of the feedback for this great show:
"It's brilliant go and see it now. What great singers .and a great night out. Thoroughly enjoyed the show tonight."
"Fabulous night! We sang and danced from start to finish. Come back again, I'll certainly be there."
"One of our best nights ever just a brilliant, fantastic, professional show please come again."
Saturday 15 April 2023 - 7.30pm
Tickets are £26 Adults | £24 Concessions/65+
The prices above include all Booking & Moneyhandling Fees and are the total price you will pay
Please be aware that many live acts will encourage the audience to participate with singing, dancing and standing, which may lead to a restriction of view for those who wish or need to remain seated. If you have such a need, please speak to the box office when booking and we will advise on the best seats to minimise the effect of this.