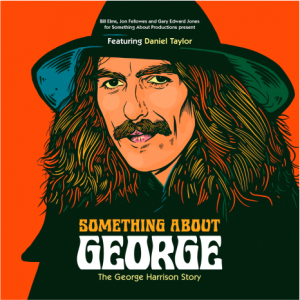 'Something About George – The George Harrison Story' is a musical biopic tribute about the so-called "quiet" Beatle. This show comes to the Spa Pavilion for the first time – following its hugely successful 2023 tour which celebrated what would have been George's 80th birthday.
"All Things Must Pass", they say. Well, George Harrison's name will live on forever. From the creators of 'Something About Simon – The Paul Simon Story', a brand-new show that will answer the question "where does life take you after being in the greatest band in the history of the world?"
Starring West End actor and musician Daniel Taylor, 'Something About George – The George Harrison Story' tells the truly remarkable tale of one of music's most understated icons.
Featuring a five-piece band performing beautiful songs such as "My Sweet Lord", "Something", "Got My Mind Set On You" and "Handle With Care", the show includes incredible solo material and music from rock n' roll's greatest supergroup, The Travelling Wilburys - not forgetting more than a few Beatles' classics along the way. From heartbreak to hedonism and song writing to instant success, 'Something About George' will show you a life that was anything but quiet.
WHAT THE PRESS SAID…
★★★★★ "Something about George is a show that will be around in the years to come." - Wirral Globe
★★★★★ "All songs were performed superbly pitch perfect, giving a moving and entirely beautiful tribute."- The Broken Spine
★★★★★ "I loved everything about this show, thank You for giving us such a brilliant night of non-stop entertainment." - Fairy Powered
Saturday 23 March 2024 - 7.30pm
Tickets £30 Adults and £28 Children/Concessions.
The prices above include all Booking & Moneyhandling Fees and are the total price you will pay
IMPORTANT NOTICE FOR LIVE MUSIC SHOWS
Please be aware that many live acts will encourage the audience to participate with singing, dancing and standing, which may lead to a restriction of view for those who wish or need to remain seated. If you have such a need, please speak to the box office when booking and we will advise on the best seats to minimise the effect of this.
The front right hand corner of the auditorium, where the wheelchair spaces are, is not for dancing or standing at any time, please do not book seats in rows A-N, seats 1-9, if you know that you wish to stand or dance. Standing and dancing at your seat during the performance should be considerate to those around you, and you may be asked to move to an aisle or to an alternative seat if it is inconveniencing people around and especially those behind you.
We ask audience members to be kind and considerate to those around them at all times and to follow the instructions of our ushers and security staff. Anyone who refuses to do as we ask or is rude or obviously intoxicated will be asked to leave the theatre. No alcohol, drinks or food may be brought into our building, bags may be searched and such items removed and disposed of.
We hope you understand that these rules are to protect your enjoyment of our show and that of the whole audience and that you thoroughly enjoy your visit to The Spa.