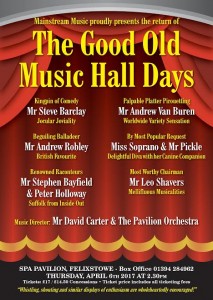 Sit back and revel in the cream of variety entertainers from around the globe as Master of Ceremonies Mr. Leo Shavers brings back
The Good Old Music Hall Days
'A whole afternoon of entertainment'
Over 60 years ago the Good Old Days was first shown on the BBC to a TV audience of around 10 million viewers.
Re-live the jewels of light entertainment and the gems of variety for a dazzling display of talent at the Spa Pavilion Felixstowe, which hosted its very own Music Hall back in the day. This performance includes all of the elements of traditional music hall, with music, comedy and illusions from a variety of talented performers.
We recreate the GOOD OLD DAYS on 6th April 2017 at 2.30pm. Tickets £17.00 Adult / £14.50 Concessions
The Ticket price above includes all ticketing and money handling fees.