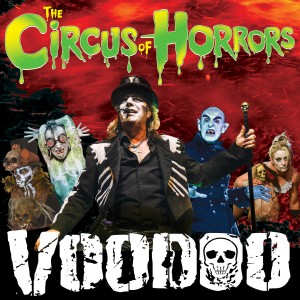 After taking to the road over 22 years ago and touring all over the world the phenomenon returns with its latest brand new incarnation "Voodoo".
The spectacular show features an amazing amalgamation of bizarre & fantastic circus acts all woven into a sensational shock / horror story twisted by the darkest of magic! This all takes the show to a whole new level driven by the supremely brave and talented performers, unbelievable tricks and stunts and a mainly original soundscape. All of this performed with a forked tongue firmly in each cheek and despite the inherent risk of the show, the greatest danger is that you'll die laughing.
Celebrity Tributes:-
'I loved it '. Simon Cowell.
'Fantastic, that's what I call entertainment'. David Hasselhoff.
'That was incredible' Ant or Dec (never know which ones which).
'Totally Unbelievable' Scott Mills, Radio 1
'You have to go & see this if, one day something will go wrong & you will be able to say I was there' Graham Norton.
Annually the Circus of Horrors plays over 100 UK theatres and this tour has expanded to take in festivals throughout the world including The Fuji Rock Festival in Japan (twice), the Wacken Festival in Germany plus shows in Chile, Uruguay, Holland, Belgium, Argentina, France, Italy, Ireland, Finland, Hong Kong and Moscow where it became the 1st UK Circus ever to perform in Russia. The show also played an astounding 10 nights at London's O2.
This is not the first time that The Circus of Horrors has created history, as it became the only circus ever to reach the finals of Britain's Got Talent and the first circus to perform in London's West End for over 100 years.
The Circus Of Horrors' appearances on various subsequent TV shows have turned what started as a cult show into a household name – taking the extreme to the mainstream. Its' TV credits now also boast The X Factor, The Slammer, Daybreak, Fairground Attractions, Who Wants to be a Millionaire, Body Shockers, Fake Reaction, This Morning, Ant & Dec, The One Show & A Royal Command Performance.
The Circus of Horrors started it's gruesome beginnings at the 1995 Glastonbury Festival and became an instant hit, touring all over the world from Chile to Chatham, Argentina to Aberdeen, Japan to Jersey including festival appearances with Alice Cooper, Ermine, Motley Cure, Oasis, Iron Maiden, The Manic St Preachers, Foo Fighters and many more.
For video footage check out http://www.circusofhorrors.co.uk
"If Quentin Tarantino had directed Cirque Du Soleil then you would be only half way there."
Media Reviews:-
'The Circus of Horrors completely WOWED the audience' The Daily Mail.
'A Bloody Great Night Out' The Times
'Freaking Awesome' The Sun
'Bloody Good Fun - Barnum Would be proud' Time Out
'Circus Without A Condom' The Telegraph
'Bloody Marvelous' Edinburgh Festival
'Blood Thirsty & Burlesque' The Independent
Wednesday 7th March 2018 7.30pm
Adult Tickets £28 / Concessions £24 Child (16 and under) and Concession (Over 65, Wheelchair User)
Prices above include all Booking & Moneyhandling fees
PLEASE NOTE: This show is not suitable for small children and all under 16's must be accompanied by an adult.