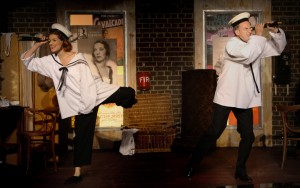 Matthew Townshend Productions is bringing its superb adaptation of Sheridan Morley's Noel and Gertie to Felixstowe!
The show chronicles the legendary lifelong friendship of playwright Noel Coward and actress Gertrude Lawrence. Featuring songs, sketches and scenes from some of Coward's finest works, it pays tribute to two of the best-loved performers of this century while taking a well-orchestrated trip down memory lane.
Scenes from Private Lives, Still Life and Blithe Spirit and snippets of timeless songs such as Dance Little Lady and, of course I'll See You Again, make it a show which entrances.
The nature of the production allows for an intimate setting which encourages the audience to pick up every smirk, grimace and subtly raised eyebrow. Based on the original which ran for nine years in the West End, this show has met with rave reviews everywhere.
Friday 24th March, 2.30pm & 7.30pm & Saturday 25th March, 2.30pm
Tickets: £24/£22 Adults and £20/£18 Children and Concessions.
All prices include a £2 Booking fee, which will be added at the Checkout