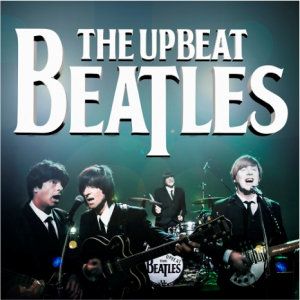 "The Magical Mystery Tour is coming to take you away!" 
"Get Back" to the swinging 60's with 'The Upbeat Beatles' and relive those 'Fab' days and timeless songs!
Performing to sell out venues for over 20 years, 'The Upbeat Beatles' have more than earned their reputation as the finest tribute to the music of the Beatles. 
Paying homage to the greatest band in history, 'The Upbeat Beatles' take you through the whole of the Beatles' career; from the early days of 'Beatlemania' (She Loves You, I Want To Hold Your Hand) across the Atlantic to conquer the USA (Help!, Ticket To Ride), through the 'Summer of Love' and Psychedelia (Sgt. Pepper's Lonely Hearts Club Band, Strawberry Fields Forever) then finally down the 'Long and Winding Road' to the end of the 1960's, for the Beatles' final live performance as a group (Get Back, Come Together).
With authentic instruments, costume changes, multimedia, and featuring an ensemble cast of professional musicians with West End experience, this is a two-hour spectacular show not to be missed, for Beatles fans new and old!
"We hope you will enjoy the show, "Yeah, Yeah, Yeah!"
Saturday 1st July 2023 - 7.30pmTickets: £31/£29 Adults and £29/£27 Children and Concessions.
The prices above include all Booking & Moneyhandling Fees and are the total price you will pay
IMPORTANT NOTICE FOR LIVE MUSIC SHOWS
Please be aware that many live acts will encourage the audience to participate with singing, dancing and standing, which may lead to a restriction of view for those who wish or need to remain seated. If you have such a need, please speak to the box office when booking and we will advise on the best seats to minimise the effect of this.
The front right hand corner of the auditorium, where the wheelchair spaces are, is not for dancing or standing at any time, please do not book seats in rows A-N, seats 1-9, if you know that you wish to stand or dance. Standing and dancing at your seat during the performance should be considerate to those around you, and you may be asked to move to an aisle or to an alternative seat if it is inconveniencing people around and especially those behind you.
We ask audience members to be kind and considerate to those around them at all times and to follow the instructions of our ushers and security staff. Anyone who refuses to do as we ask or is obviously drunk may be asked to leave the theatre. No alcohol or food may be brought into our shows, bags may be searched and such items removed and disposed of.
We hope you understand that these rules are to protect your enjoyment of our show and that of the whole audience and that you thoroughly enjoy your visit to The Spa.