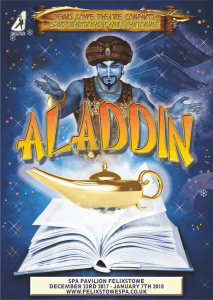 Your wish has been granted! The most magical story of them all returns to The Spa in 2017/18.
Enjoy a magic carpet ride of a pantomime! Aladdin dreams of marrying Princess Jasmine who is beautiful and well connected but the wicked magician Abanazar has tricked Aladdin into helping him find a magic lamp hidden in a secret cavern high in the hills. Aladdin soon finds himself trapped with only a pile of plastic jewels and a battered old lamp for company while his mother, Widow Twanky, and brother, Wishee Washee, are both excited at the prospect of great riches. It's only when Aladdin rubs the scruffy lamp that his adventure really begins!
Aladdin will need the help of all his pals in the audience if he's going to win fame, fortune and the girl by cheating the wicked Magician to make his wishes come true. Will you come and help?!
SATURDAY 23RD DECEMBER 2017 TO SUNDAY 7TH JANUARY 2018
Tickets
Adult £17.50 / £19.50
Child (16 and under) and Concession (Over 65, Wheelchair User and their Carer): £11.50 / £13.50
Family (2 Adults and 2 Children): £50.00 / £58.00
All Ticket Prices above include all Booking and Moneyhandling Fees and are the total price you will pay.