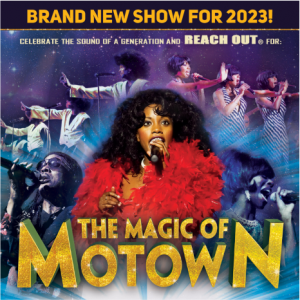 Seen by over a million people, now in its 18th year touring the UK - It's no surprise that this show is one of the biggest success stories in British theatre history.

Come celebrate our brand-new show for 2023 as we Reach Out and show you 'There Ain't No Mountain High Enough', with the biggest Motown party of the year.

Get ready for all the hits, glittering costumes, dazzling dance routines and outstanding musicianship in this breath-taking live concert spectacular!

You will be going 'Loco Down in Acapulco' as we take you back down memory lane with all the Motown classics from artists such as, Marvin Gaye, Diana Ross, Stevie Wonder, The Temptations, The Supremes, The Four Tops, Martha Reeves, The Jackson 5, Smokey Robinson, and many, many more.

Celebrate the sound of a generation with one very special night of The Magic of Motown!

Saturday 29th July 2023 - 7.30pm
Tickets are £33
The prices above include all Booking & Moneyhandling Fees and are the total price you will pay


IMPORTANT NOTICE FOR LIVE MUSIC SHOWS

Please be aware that many live acts will encourage the audience to participate with singing, dancing and standing, which may lead to a restriction of view for those who wish or need to remain seated. If you have such a need, please speak to the box office when booking and we will advise on the best seats to minimise the effect of this.

The front right hand corner of the auditorium, where the wheelchair spaces are, is not for dancing or standing at any time, please do not book seats in rows A-N, seats 1-9, if you know that you wish to stand or dance. Standing and dancing at your seat during the performance should be considerate to those around you, and you may be asked to move to an aisle or to an alternative seat if it is inconveniencing people around and especially those behind you.

We ask audience members to be kind and considerate to those around them at all times and to follow the instructions of our ushers and security staff. Anyone who refuses to do as we ask or is obviously drunk may be asked to leave the theatre. No alcohol or food may be brought into our shows, bags may be searched and such items removed and disposed of.

We hope you understand that these rules are to protect your enjoyment of our show and that of the whole audience and that you thoroughly enjoy your visit to The Spa.