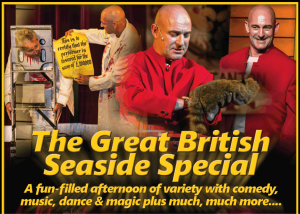 From the production team who bring you our immensely popular Good Old Music Hall Days show ...
This fabulous show takes you on a whirlwind tour of Great British Variety from the past 6 decades and beyond...
It is a full production show and features a superb cast of 9, providing 2 hours of pure non-stop entertainment and is a "must see" for the whole family.
Audiences have loved this show for the last 5 years on the North Norfolk Coast and now you can see it on the beautiful and sunny south Suffolk coast too! So bring your bucket and spade and come down to enjoy the best value-for-money show on the coast this year!
Thursday 3rd and Thursday 17th August 2017 - 2.15pm
Tickets are £15.00 for Adults and £12.50 Concessions. Children under 16 just £5
The prices above include all Booking & Moneyhandling Fees and are the total price you will pay