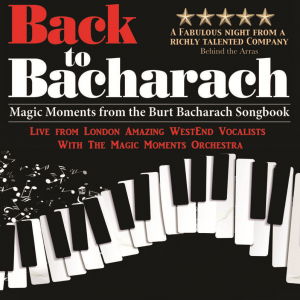 Back to Bacharach is a sensational show with 3 West End singers and a 10 piece live band to recreate the full rich sound of the originals. The show is complete with projection of images relevant to each song and pays homage to one of the 20th Century top songwriters.
A perfect evening of nostalgia, great songs and stunning performance. All of Burt Bacharach's greatest hits are featured in this amazing 2 hour show including...Alfie - What The World Needs Now - The Look Of Love - Close To You - I Say A Little Prayer - What's New Pussycat - Do You Know The Way To San Jose - Walk On By - Magic Moments - Trains & Boats & Planes - 24 Hrs From Tulsa - Anyone Who Had A Heart - I'll Never Fall In Love Again - Wishin' & Hopin' - Always Something There To Remind Me - Raindrops Keep Falling On My Head & Many More.
Burt Bacharach is a legend of popular music who has won 6 Grammy Awards and 3 Academy awards with over 70 top 40 hits in the USA and over 50 top 40 hits in the UK, which have been recorded by many successful artists throughout the years such as: Cilla Black - Tom Jones - Dionne Warwick - Aretha Franklin - Gene Pitney - Frank Sinatra - Elvis Presley - The Beatles - Dusty Springfield - Elvis Costello - The Carpenters to name just a few.
Back To Bacharach is a fantastic show for all ages, friends and family, songs everyone will remember and fall in love with again.
There's Always Something There To Remind You !
Here is a link for you to preview the show www.back-to-bacharach.co.uk
Saturday 7th October 2017 - 7.30pm
Tickets are £25 Adults and £23.50 Concessions.
The prices above include all Booking & Moneyhandling Fees and are the total price you will pay