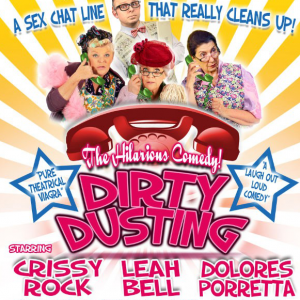 After a sellout UK tour in 2016, Dirty Dusting returns to the stage in 2017. Treat yourself to an evening of pure theatrical Viagra!!
Three cleaning ladies, (past their sell by date) start up a telephone sex line!!! "The Telephone Belles" – A Dirty Sex Chat Line that really cleans up!
Gladys, Elsie and Olive are three cleaning ladies who are about to be "put out to pasture" by their overzealous office manager Dave. Feeling they have little chance of gaining employment elsewhere, the ladies have to boost their falling income!
A chance wrong number looking for a sex chat-line rings into the office and gives them a great idea….. "Why not run our own Sex Chat Line?" After all, their age and appearance won't matter on the telephone and providing they can keep this a secret from their boss….they could be onto a winner!!
Needless to say……things don't go entirely according to plan.
"Dirty Dusting Telephone Sex" - A Chat Line that Really Cleans Up
This is a heart warming feel-good comedy that will have you rolling in the aisles and smiling every time you answer the phone!
Written by Ed Waugh and Trevor Wood, this production is directed by Leah Bell who injects this hilarious play with a fresh and lively approach coupled with her own unique style.
Starring
Crissy Rock (Hit TV Series Benidorm and I'm a Celebrity)
Leah Bell (Comedienne and actress)
Dolores Porretta Brown (Stage and TV actress)
Introducing Andy Green
*Great show tonight at Mansfield Palace: Still wiping away the tears of laughter!"*
* "Brilliant night at Billingham Forum Theatre: It was such a laugh and a must-see!"
*Laughed all the way through the show tonight at Telford, it was excellent comedy!*
Friday 3rd November 2017 - 7.30pm
Tickets are £23.50 and £21.50 Concessions.
The prices above include all Booking & Moneyhandling Fees and are the total price you will pay