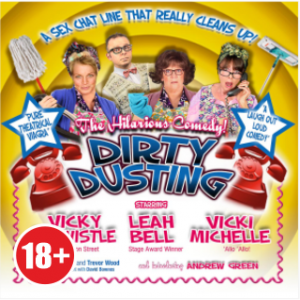 DIRTY DUSTING – 7th National Tour!  
Production company Entertainment Unlimited have embarked on another UK wide tour in 2021 with the laugh out loud comedy, Dirty Dusting.  
Written by Ed Waugh and Trevor Wood, this production is directed by Leah Bell who injects this hilarious play with a fresh and lively approach coupled with her own unique comedic style. This production stars Vicki Michelle ('Allo 'Allo!) and Vicky Entwistle (Coronation Street), Leah Bell completes the threesome of cleaning ladies who, threatened with redundancy, chance on an 'unconventional' way of earning some extra cash.  
A wrong number requiring a Sex Chat Line rings into the office and gives them a great idea… "Why not start their own Sex Chat Line?" After all, their age and appearance won't matter on the telephone and providing they can keep this a secret from Dave, their boss…they could be onto a winner!  
So, what could go wrong for Gladys, Elsie and Olive?
Sunday 10th October 2021 - 7.30pm
Tickets are £25.
The prices above include all Booking & Moneyhandling Fees and are the total price you will pay18+ Recommended Contains Adult Humour