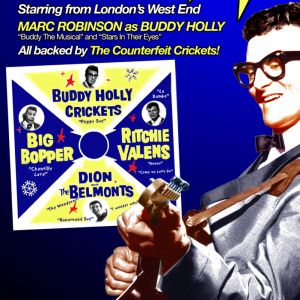 In January 1959 Buddy Holly began a string of dates across the American mid-west. 'The Winter Dance Party Tour' included Ritchie Valens, The Big Bopper, Dion and the Belmonts and of course Buddy himself. 58 years on from what was to prove to be Buddy, Ritchie and the Boppers' final concerts we are delighted to present a celebration of their music which brings all of those unforgettable stars back together.
This show will take you back to one of the most hit-packed rock and roll tours ever. From the early songs such as Buddy's 'Blue Days Black Nights' and 'Rock Around with Ollie Vee' to 'True Love Ways' and 'It Doesn't Matter Anymore'. Then the Big Bopper's 'Chantilly Lace', 'Running Bear' and 'White Lightning'. Ritchie's 'La Bamba', 'Come On Lets Go', 'Donna' and Dion's 'The Wanderer', 'Runaround Sue', 'I Wonder Why' and 'Teenager In Love' this will have you off your seat from start to finish.
All the music is performed by real musicians in authentic 50's attire on real instruments, and with all the main characters faithfully portrayed. No backing tracks here! The attention to detail will have you believeing that you are back in 1959. You will actually see how Buddy recorded songs such as 'Everyday' where the drums were replaced by the drummer slapping his knees and 'Not Fade Away' (No the 'Stones' didn't write it!) being performed again not on the drums but this time on a cardboard box! An Acknowledgement is made to the influence of Elvis on Buddy when we are treated to a short medley of Elvis songs that Buddy himself recorded. The expertise of the 'Counterfeit Crickets' double bass player at this point never fails to gain a standing ovation from the awe struck audience
This show, led by Buddy The Musical star Marc Robinson and supported by The Counterfeit Crickets, conclusively proves that the music did not die but lives on and is as vibrant and relevant as ever.
Saturday 23rd September 2017 7.30pm
Adult Tickets £23.50/£21.50 / Concessions £21.50/£19.50 Child (16 and under) and Concession (Over 65, Wheelchair User)
The prices above include all booking and moneyhandling fees and are the total price you will pay