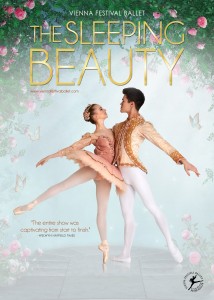 Join Vienna Festival  Ballet as they celebrate their 40th Anniversary with the classic fairytale set to Tchaikovsky's magnificent score, stunning choreography, beautiful costumes all combine to portray the struggle between good and evil.  
The wicked Carabosse casts a spell on Princess Aurora proclaiming that she will one day prick her finger - and die.  The Lilac Fairy changes the spell, and instead on the fateful day the Princess and the entire Palace fall into a deep sleep. A century later Prince Désiré revives the Princess with a kiss, the Palace awakes and a parade of fairytale characters attend the wedding. Faithfully following the traditional tale of Sleeping Beauty, this ballet is sure to enchant audiences of all ages.  
"The entire show was captivating from start to finish" - WELWYN HATFIELD TIMES
''A truly spelling performance'' - BURNLEY EXPRESS
 "This production looks and feels absolutely right" - WORTHING HERALD
 ''The whole evening was a delight'' - LICHFIELD LIVE
Saturday 11 April 2020 - 5pmTickets are £24 Adults and £21 Concessions.
The prices above include all Booking & Moneyhandling Fees and are the total price you will pay