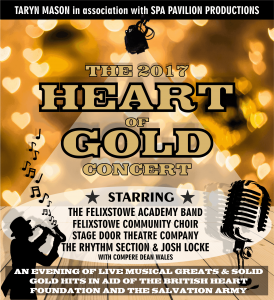 Have you got a Heart of Gold?
Please come along for a fabulous night of entertainment at our new annual community-led concert and help us raise money for the British Heart Foundation and Felixstowe's Salvation Army!
This will be a fundraising night to remember, packed full of music hits from jazz, the 50s, 60s, 70s, Pop Rock and West End Musicals. Hosted by the one and only Mr Dean Wales and produced by University of Suffolk Business student and staunch Spa supporter Miss Taryn Mason, who has set out this challenge for her degree, the first Heart of Gold concert will be a night of live music and song to remember.
Starring the best of our local talents:
Felixstowe Community Choir
: 70 – 100 men and women of all ages choir have been together since October 2012. Directly they have donated over £21,000 for local and national causes, as well as appearing in many charity concerts over Suffolk. The pianist conductor Emily Bennett, is from Felixstowe, a professional musician and teacher, who gets everyone laughing and singing. Expect uplifting harmonies and foot-tapping tunes.
Stage Door Theatre Company:
Stage Door was formed in 1987 and has gone from strength to strength performing a huge range of musicals and plays. Stage Door has performed on the Spa stage a record number of times giving Felixstowe classics such as The King and I, Fiddler on The Roof, Seven Brides for Seven Brothers, My Fair Lady and many more. Stage Door and their famous Friday Night Youth Section are back on the Spa stage for Heart of Gold with numbers from All Shook Up, Singing in the Rain, The Wiz and many more!
Felixstowe Academy:
Our local academy wasn't always one school. Deben and Orwell High School has always been known for the high quality of performing arts and music. Teachers Mike Wren and Matt Keane have continued this high quality by highlighting student talents through chamber concerts, music for the community and music trips abroad.
The Rhythm Section with Josh Locke:
The band is made up of three 17 year olds from the academy with the accompaniment of teachers Mike Wren and Matt Keane. This new upcoming jazz and rock band led by Dermot Gardiner has appeared in many concerts in and around Felixstowe and will rock you with solid gold hits. For one night only, The Rhythm Section will be guest-starring hugely talented local musician and band leader Josh Locke, famous for his work with JS & The Lockerbillies.
Hosted by Dean Wales:
Dean is a familiar face at the Spa having spent 18 seasons performing in the Dennis Lowe pantos, 12 of those as the dame. He has been on stage for over 31 years performing in a broad range of musicals in Suffolk. His work in journalism and broadcast means he's not seen so much these days on stage but was delighted to make his producer debut with Serendipity's award-winning production of Jonathan Harvey's play 'Beautiful Thing' at the Wolsey Studio. Needless to say he is excited to be back at the Spa compering this stunning Heart of Gold Concert.
Friday 20 October 2017 - 7.00pm
Tickets are £15 Adult; £12.50 Concessions and £10 Under 16's.
The prices above include all Booking & Moneyhandling Fees and are the total price you will pay