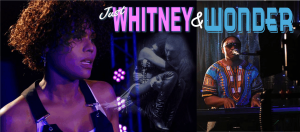 A Spa exclusive for all Soul & Motown fans! For the first time on the same bill, we've got the best Whitney Houston and Stevie Wonder you'll get without seeing the real thing! Firstly, Beverly Savarin brings her Just Whitney show. A hitmaker in her own right with an amazing voice, Beverly stormed her way to success on the X Factor and hasn't looked back with a string of high profile tours, collaborations and concerts. For one night only she will be followed on stage by Godfrey Gayle, one of the very few singers able to authentically reproduce the sound of Stevie Wonder. From humble beginnings in gospel, Godfrey rapidly rose to prominence on the strength of his voice winning the Stevie Wonder Award for a male gospel vocalist in 1989 which ensured an enduring facination with the work of the great man. Now, for one night only, we will have the sounds of two of the biggest soul & motown hit machines all on one stage for a party not to be missed.
Saturday 18th November 2017 - 7.30pm
Tickets £22/£20 Adults and £20/£18 Children/Concessions.
The prices above include all Booking & Moneyhandling Fees and are the total price you will pay