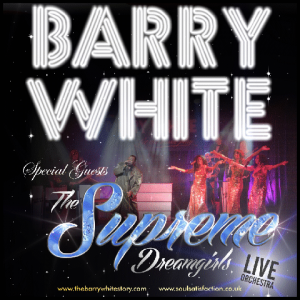 Two times grammy winner Barry White was best known for his distinctive, smooth, smokey deep baritone bass voice. He was known to tour with a 40 piece orchestra and his 3 piece female group 'Love Unlimited' for which he conducted, composed, arranged and produced memorable hits such as "Can't Get Enough Of Your Love Babe", You're The First My Last My Everything", "Never Never Gonna Give You Up", "Ecstasy", "Your Sweetness Is My Weakness", and "Love's Theme".
Worldwide Barry White earned both platinum and gold discs with combined sales of over 100 million and his live shows remained sold out throughout his career and his voice remains one of the hardest to replicate. William Hicks has performed as Barry for many years and tours with his own live orchestra and three piece female group The Supreme Dreamgirls with the intention to bring to you an experience as close to the real man and his music as possible.
With incredible attention to detail and an outstanding performance by William Hicks this show is Simply AMAZING!
Saturday 10th February 2018 - 7.30pm
Tickets £24 Adults and £22 Children/Concessions.
The prices above include all Booking & Moneyhandling Fees and are the total price you will pay