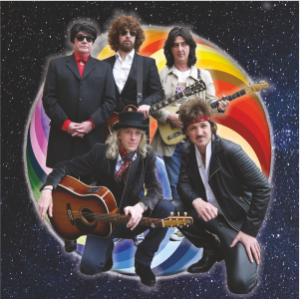 Now in its ninth successful year of touring, come and celebrate with the band as they commemorate 34 YEARS since the Wilburys' original album release and pay a special tribute to The Big O, who died later the same year.
'Paul Hopkins' Roy Orbison and the Traveling Wilburys Experience' will take you on a journey through the story of the Wilburys. With expert narrative and BIG SCREEN ACTION, this 34th Anniversary Special is unmissable.
With tributes to: Jeff Lynne, George Harrison, Tom Petty, Roy Orbison and Bob Dylan. All the Traveling Wilbury hits and classics are included in the show, including: 'Handle with Care', 'End of the Line', 'Wilbury Twist', 'Heading for the Light', 'Tweeter and the Monkey Man', 'Last Night', and many more.
Totally unique to this production are five authentic Lookalike-Sound-alike's to the famous Traveling Wilburys, enabling the show to explore the Solo Hits of the Famous Five. 'Mr Blue Sky', 'Pretty Woman', 'Blowin in the Wind', 'Here Comes The Sun', 'Runnin Down a Dream', 'Sweet Talkin Woman', 'Only the Lonely' 'The Mighty Quinn' and 'I Got My Mind Set on You' are just a few of the Million-Selling hits you'll hear throughout the show.
This joyous, up-tempo feel-good celebration of classic pop music is guaranteed to have you singing and dancing in the aisles.
Video Showreel: https://www.youtube.com/watch?v=SX3Gc52xtNI
Please be aware that many live acts will encourage the audience to participate with singing, dancing and standing, which may lead to a restriction of view for those who wish or need to remain seated. If you have such a need, please speak to the box office when booking and we will advise on the best seats to minimise the effect of this.
Saturday 17th December 2022 - 7.30pm
Tickets are £28.50 and £26.50 Concessions.
The prices above include all Booking & Moneyhandling Fees and are the total price you will pay*** DINE & DANCE - LATE NIGHT CHRISTMAS PARTY MEAL PACKAGES ARE AVAILABLE AT EXTRA COST WITH THIS SHOW - THE MENU IS AVAILABALE HEREPARTY PACKAGES INCLUDE MEAL, SHOW, LATE BAR AND DJ UNTIL MIDNIGHT & COST £17.50 FOR A 2 COURSE MEAL OR £22.50 FOR 3 COURSES -
PLEASE CALL THE BOX OFFICE 01394 284962 TO BOOK ***