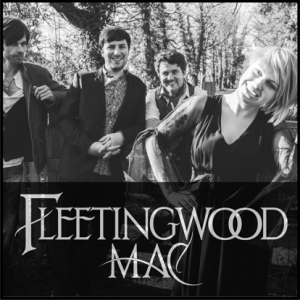 Fleetingwood Mac are young and exciting new tribute to the legendary band Fleetwood Mac and are so much more than just another tribute band, with tacky wigs and fancy dress outfits. Instead they bring across the live sound of Fleetwood Mac, with authentic guitar, keyboard, drum kit, a man on the bass and of course, the vocals.
This band work extremely hard in rehearsals to get the details right and do justice to some classic songs that play a huge part in many people's lives. In doing so they put a modern twist on the unique sound of one of our most iconic groups. They track the sound of Fleetwood Mac from the early rhythm & blues style right up to the arena rock and anthems which followed.
This fully live show introduces the sound and songs to a new generation of fans, who, perhaps like Fleetingwood Mac themsleves, weren't even born when the band were in their prime. They do not go on stage pretending to be Fleetwood Mac, instead they go on as five young musicians who love the music, and want to share the music of one of the world's greatest bands with a wider audience.
Saturday 7th July 2018 at 7.30pm.
Tickets: Adults £22.50 - Concessions (65+/-16) £20.50
The Ticket Prices above include booking fees and are the total price you will pay