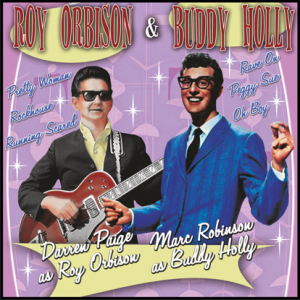 Darren Page's vocal abilities have brought a reputation for always delivering high quality entertainment, but his secret love in music is Roy Orbison which sits very comfortably in Darren Page's voice range.  
Marc Robinson has played the part of Buddy Holly all over the UK, and across the world! He performed in 'Buddy: The Musical' and numerous other shows. With partners, he founded 'In Dreams' & 'Rockin on Heavens Door',  he also has many TV appearances to his name.  
'Through the Decades with Roy Orbison & Buddy Holly' will deliver a feel good factor with all the hits: 'I Drove all Night', 'Mean Woman Blues', 'Pretty Woman', 'Heartbeat', 'Peggy Sue', 'It Doesn't Matter Anymore' & 'Raining in my Heart', to name but a few!  
After playing in Europe and all over Great Britain Darren Page joined Marc Robinson to create one blockbuster of a show! They have dedicated their careers to Roy Orbison & Buddy Holly, this two-hour uplifting Rock n Roll Show is full of pure nostalgia with all the massive hits and a few earlier ones too!  
Will Rock n Roll in Felixstowe ever Die?  That'll be the Day!
Sunday 3rd October 2021 - 7.30pm
Tickets: £24 Adults and £23 Concessions
The prices above include all Booking & Moneyhandling Fees and are the total price you will pay