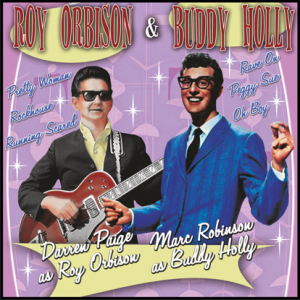 Roy Orbison and Buddy Holly both grew up in the same part of Texas. They recorded their earlier work in the Norman Petty Studios in Clovis, New Mexico, even at one point recording the same songs 
'An Empty Cup' (and a broken date) as well as 'You've Got Love' both written by Roy Orbison.
The two Artists brought a unique Texas influence into their music and through their creative writing for both an individual sound was born! Roy Orbison went on to write so many songs including 'Only the Lonely' & 'Crying', and Buddy Holly in his all too short career showed that his writing talents would have gone on to match any songwriter in the world, which earned him a place (13th) in 'The Rolling Stone' '100 Greatest Artist of all Time'.
Darren Page's vocal abilities have brought a reputation that always delivers a quality to entertain, but Darren's secret love in music is Roy Orbison which sits very comfortably in Darren Page's vocal range. Marc Robinson has played the part of Buddy Holly all over the world and all-over Great Britain; he performed in 'Buddy 'The Musical and numerous other shows, with partners he founded 'In Dreams & Rockin' on Heaven's Door', he also has many TV appearances to his name. Marc's latest show 'Through the Decades with Roy Orbison & Buddy Holly' will deliver a feel-good factor with all the hits… I Drove all Night, Mean Woman Blues, Pretty Woman, Heartbeat, Peggy Sue, It Doesn't Matter Anymore & Raining in my Heart, to name but a few!
After playing in Europe and all-over Great Britain Darren Page joined Marc Robinson, they both have dedicated their careers to Roy Orbison & Buddy Holly, this two-hour uplifting Rock n Roll Show is full of pure nostalgia with all the hits and a few earlier ones too!
Will Rock n Roll in Felixstowe ever Die?  That'll be the Day!
Friday 9th December 2022 - 8pm
Tickets: £26 Adults and £25 Concessions
The prices above include all Booking & Moneyhandling Fees and are the total price you will pay
*** DINE & DANCE - LATE NIGHT CHRISTMAS PARTY MEAL PACKAGES ARE AVAILABLE AT EXTRA COST WITH THIS SHOW - THE MENU IS AVAILABALE HEREPARTY PACKAGES INCLUDE MEAL, SHOW, LATE BAR AND DJ UNTIL MIDNIGHT & COST £17.50 FOR A 2 COURSE MEAL OR £22.50 FOR 3 COURSES -
PLEASE CALL THE BOX OFFICE 01394 284962 TO BOOK ***