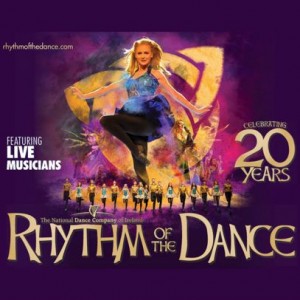 Like lightning, the pulsating rhythms, pure energy and melodic music, in the Rhythm of the Dance show, has hit 50 countries around the world with audience figures of over 7 million during the past 20 years. Dance and Gaelic music fans everywhere are enjoying 2,000 years, and more, of dance, music, songs and culture from pre-Celtic times to modern day all compacted into a 2-hour concert. It's full of flailing feet and fiddles, futuristic dances, eye-catching lighting and costumes, sensational sound effects and is now one of the top 3 Irish step dance shows in the world. Apart from having World and Irish champion dancers; this show also has some of the finest Traditional musicians plus singers who are a big hit everywhere. 
Alongside the world class dancers, the live band consists of top musicians who play a vast array of musical instruments which include the Traditional Uilleann pipes, Irish Bodhran, fiddles, flutes, accordions, banjo and whistles. Following worldwide success, including performances with Dolly Parton and at the closing ceremony of the European Games, we're delighted to welcome this dazzling show to The Spa.
Saturday 20th July 2019 - 7.30pmTickets £27.50 Adults and £25.50 Children/Concessions.
The prices above include all Booking & Moneyhandling Fees and are the total price you will pay